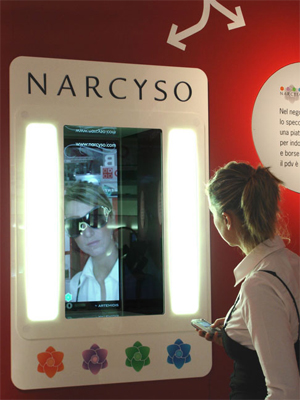 Lets say: no one resists to the temptation of mirrored on showcase of a store or thinking himself in the shoes of the characters of adverting world.
NarcysoŽ
is the
"mirror"
that allows you to try-on
glasses, jewelry, bags
and other
accessories
overlaying in three dimensions and in real time to your mirror image, following your movements like in front of a mirror, in simple and natural way .
Just get in front of the NarcysoŽ screen, select the preferred model and mirrored: front face or profile, closely or far away. The result is so realistic that you really seem to wear the product: all with the simplicity and naturalness of who stay in front of a normal mirror.
Now, through NarcysoŽ, you can wear a necklace exposed to showcase even if it is evening and the store is closed, or try-on the different models of a particular signature glasses while you are waiting for boarding.
The product is available in a wide range of formats and sizes, able to satisfy every request of communication, promotion or adverting: Portrait Version to focus on the individual and Landscape Versione in case of higher number of simultaneous users.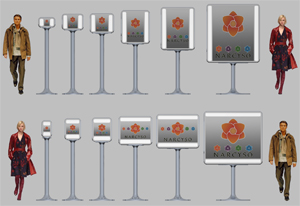 The size of the display ranges from 8''to 64'' and each model is designed for specific applications and needs in order to optimize the exhibition space, to focus the communication on a single part of the body as the face or hands, or to allow users to mirrored in size.
Finally, it is already under development the migration of platform on other communications systems like the Web, interactive TV, consoles and mobile phones.